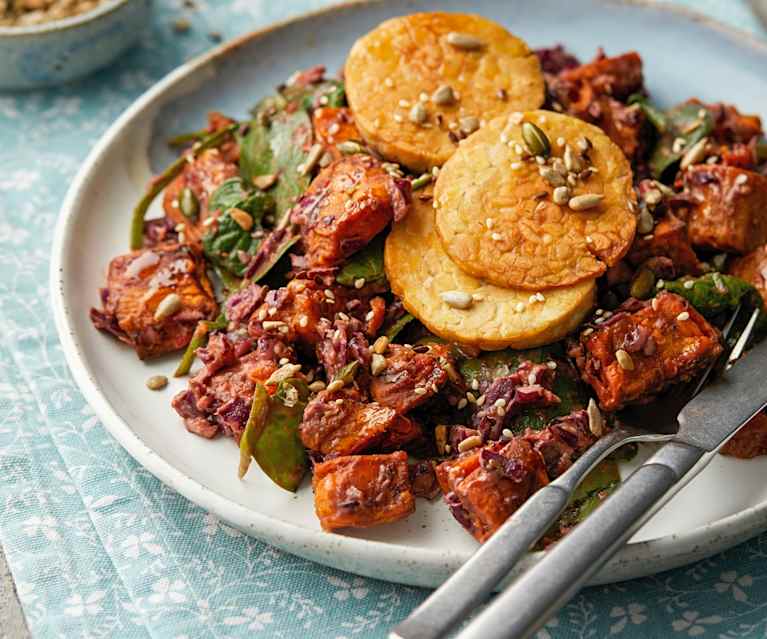 TM6 TM5
Versiones compatibles
Ten cuidado, esta receta está diseñada para una combinación específica de dispositivos y no es compatible con otras máquinas.
Sweet and Sticky Red Cabbage and Sweet Potato Salad
Dificultad
La mayor parte de nuestras recetas son fáciles. Las clasificadas con dificultad "media" o "avanzada" requieren un poco más de tiempo o habilidad para cocinar.
Tiempo de preparación
Este es el tiempo que necesitas para preparar esta comida.
Tiempo total
Este es el tiempo que se tarda en preparar esta comida de principio a fin: marinado, cocinado, enfriado, etc.
Porciones
Aquí se muestran las raciones de la receta.
Ingredientes
750 g sweet potatoes, peeled, diced (2-3 cm)
20 g olive oil, plus 1 Tbsp
1 tsp ground cumin
1 tsp ground cinnamon
½ tsp fine sea salt
½ tsp ground ginger
1 pinch ground black pepper
10 g fresh root ginger, peeled, cut in round slices (2 mm)
1 garlic clove
1 red chilli, halved
50 g medjool dates, pitted, halved
50 g cashew butter or nut butter of choice (see tip)
50 g lime juice
20 g tamari
o light soy sauce
20 g rice wine vinegar
250 g red cabbage, cored, cut in pieces (3-4 cm)
25 g mixed seeds
200 g tempeh, cut in 12 slices
100 g fresh baby spinach
---
Inf. nutricional

por 1 portion

Calorías

2165 kJ / 517 kcal

Proteína

19 g

Carbohidratos

56 g

Grasa

21 g

Grasa saturada

3 g

Sodio

684 mg
---
Recetas alternativas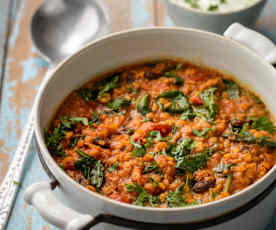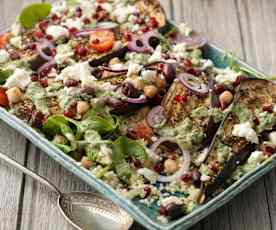 Roasted Aubergine Salad with Tahini Dressing
45min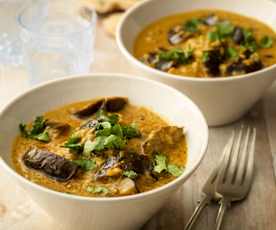 Aubergine, Coconut and Peanut Curry
25min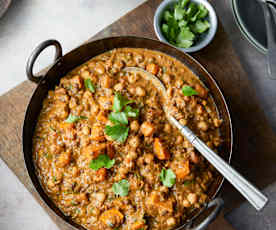 Indian-spiced Roast Butternut and Chickpea Curry
45min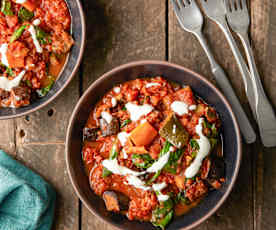 Aubergine and Sweet Potato Shakshuka with Garlic Cashew Cream
1h
Kung Pao Cauliflower with Pickled Carrot and Sesame Salad
40min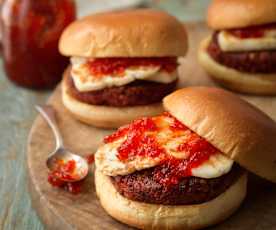 Beetroot and Halloumi Burgers
1h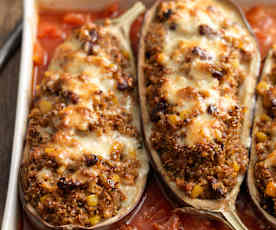 Mexican Quinoa Stuffed Aubergine
1h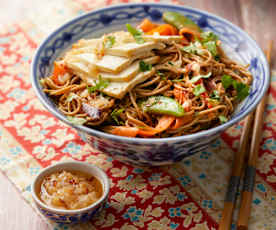 Chilli and Peanut Noodles with Tofu and Chilli Garlic Oil
30min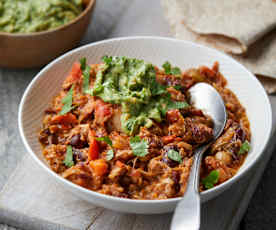 Jackfruit and Bean Chilli with Spicy Avocado Purée
30min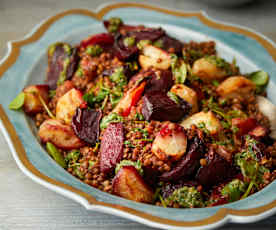 Lentils and Roasted Roots with Salsa Verde
1h 30min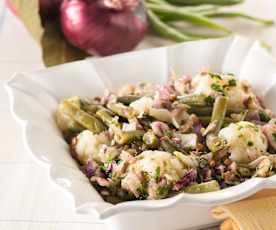 Warm Salad with Lentils, Cauliflower and Beans
30min